What's New in Inventor 2021?
An overview of the new features and updates in Inventor 2021

Autodesk's experienced product, Inventor 2021, has now gone live. This new edition has been improved in four key areas:
Performance
Modernisation
AnyCAD
Automation
Let us look at the new features and updates released in Inventor 2021 in a bit more detail.
Performance:
As with every release, Autodesk have enhanced product performance to allow for greater speeds and capability. Below is a list of some of the key areas they have improved: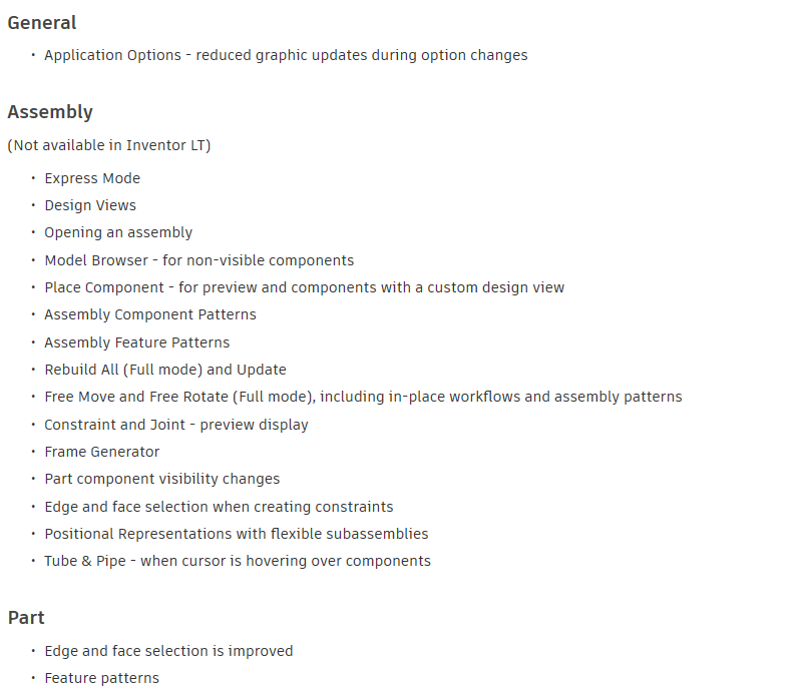 Modernisation:
Tools have been gradually updated in line with the modernisation of the product. This year is no different, with Autodesk updating tools such as Coil, Thicken/Offset, Frame Generator and Delete Face. They have also released the new dark theme to counter issues that come with the blue light and light theme exposure.
AnyCAD:
The interoperability between Revit and Inventor has been constantly reviewed. With this release, Autodesk have incorporated the ability for Inventor to read Revit 3D data. What is great about this is that it is a live connection and allows Manufacturing and Architectural companies to work seamlessly using BIM.
Automation:
The ability to automate procedures is a constant feature during each update. This year pre-sets have been added to Frame Generator and drawing templates have been enhanced to improve this aspect.
General Part Enhancements :
Some features in the part environment have been improved with the likes of now having the ability to window select multiple bodies. Previous versions would have made you choose this by selecting on them individually in the window. This is a small tweak but will save users a vast amount of time, especially when working in the woodwork environment.
Another feature they have tweaked in the part environment is the unwrap tool now aligning to specific work planes. They have also enabled coplanar holes to stay rigid; this allows for holes to keep a set distance when creating the flat pattern.
The flange tool in the sheet metal environment has been updated to now allow you to choose a reference face. This is good as it will reduce manual calculations when trying to match an exact angle.
Frame Generator Enhancements:
All the tools in Frame Generator have been updated with the modernised theme to now allow it to be docked into the properties panel. This goes hand-in-hand with some much-needed adjustments that allows for a smoother workflow. Firstly, the new zoom options which allows users to see the placement of a member perpendicular to the view. You can also zoom so the member is fit to the view of the screen. Both options provide a great new alternative when aligning your member.
Further improvements to the notch tool include a follow on from the custom 'I' template in the 2020 version, with Custom 'C' and 'T' Templates. Improvements like this allow for the Frame Generator environment to become a more well-rounded tool.
General Drawing Enhancements:
Sheet Set Formats in previous versions only allowed for standardisation of Borders, Title Blocks and Sheet Properties. In 2021, Autodesk have adapted this to encourage users to have sheet format templates for a number of different areas including: View placement (as well as shaded properties).
Sheet Metal Settings, Parts List and Format settings, General/Generic Tables, and Notes and Text. This is a little time consuming during initial set up, but definitely worth it in the long run. Once these are created it will not only reduce time, but improve consistency of drawings throughout the business, a great addition to the software.
Watch our video below to see these new features in action:
Note: the below video was created by Excitech prior to becoming Symetri in January 2021, following its acquisition by Addnode Group. All Excitech products, services and solutions mentioned in this recording are available through Symetri.
To learn more about Inventor, please visit our product page or call 0345 370 1444 or email info@symetri.co.uk.