Excitech has become Symetri
In January 2020, Excitech was acquired by Addnode Group, the owner of Symetri, Europe's leading provider of software and services for design and engineering activities. 
Excitech has now become Symetri, operating as one company since the beginning of January 2021. Please rest assured it is business as usual for us and your service experience will not be impacted.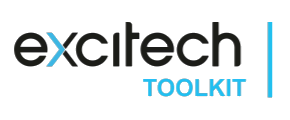 Excitech Toolkit for AutoCAD
The Excitech Toolkit for AutoCAD is a set of essential productivity plug-ins that will make your work in AutoCAD fast, easy and efficient.

SELECTION FILTER
The Selection Filter tool helps when selecting AutoCAD entities from a tree like control.
SELECT ELEMENTS ON LAYER 
The Select Elements on Layer tool allows you to select all entities on a layer by selecting one element on that particular layer.
SHOW XDATA
The Show XData tool allows you to review object extended entity data on a specific item if it exists.
3D FILLET
This tool allows you to fillet a 3D polyline by inserting tessellated arc.
3D OFFSET 
The 3D Offset tool is a command similar to AutoCAD offset with options to define vertical offsets and 3D Polylines.
CONVERT TO 3D POLYLINE
The Convert to 3D Polyline too enables you to convert 2D polylines into 3D polylines.
LABEL ELEVATION
The Label Elevation tool enables you to define a base point locations and elevation, then label additional elevations by selecting points on screen.
LABEL SLOPE
The Label Slope tool allows you to label slopes of a 2D or 3D polyline.
POLYLINE WIPEOUT

The Polyline Wipeout tool enables you to create a wipeout element around polylines to improve visibility.
BLOCK LEGEND

The Block Legend tool enables you to create a legend of blocks in your drawings in one instance.
HATCH LEGEND

The Hatch Legend tool allows you to create a legend of hatches in your drawing in one instance.
LINETYPE LEGEND

The Linetype Legend tool allows you to create legends of line types in your drawing in one instance.
Open Folder
OPEN FOLDER
Enabling you to access your computer shortcuts from directly within the Excitech Toolkit for AutoCAD eg "My Documents", "Desktop" or "Drawing Folder". 
(No video available)
Contact us
Alternatively call: 0345 370 1444