Excitech has become Symetri
In January 2020, Excitech was acquired by Addnode Group, the owner of Symetri, Europe's leading provider of software and services for design and engineering activities. 
Excitech has now become Symetri, operating as one company since the beginning of January 2021. Please rest assured it is business as usual for us and your service experience will not be impacted.
The State of Information Management in the Construction Industry
We're pleased to share the following whitepaper from our partner M-Files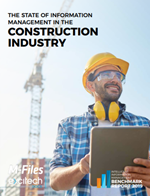 Contractors manage a lot of moving parts on a daily (if not hourly) basis from crews on-site, subcontractors, equipment, materials and continuously changing conditions. Not to mention, they need to make sure all parts of a job are completed according to specifications. Their profitability depends on their ability to execute projects both in terms of cost and schedule. Organisation is vital. 

To keep things organised, most construction companies use technology in some capacity to simplify day-to-day workflows for project management, scheduling, accounting, estimating and more. But how effective is this? Our partner M-Files commissioned a research project to better understand how construction companies across the globe are managing their growing store of company information. With resounding clarity, the consensus is that document management remains a challenge.
Please complete the form below to gain access to the whitepaper.