Digital Construction – Our Industry is Changing

Almost 30 years ago we saw a change in the way we deliver drawings, with CAD systems becoming the norm and drawings being generated electronically. This brought huge efficiencies to design teams, making changes and design options achievable at relatively low cost.

It is only in the last 5 years though that we have started to see a change in the way electronic data is used on a construction site, and uptake is slow. Many contractors still see 2D drawings as the primary method from which a building is constructed. But BIM and digital construction is beginning to change this, and making main contractors and sub-contractors think about how data can be utilised in different ways.
In the following article I take a look at some of the key technologies impacting construction sites today.


Winning Work
Project design teams are now generating a better standard of federated models, which is giving the Contractor's bid teams more confidence in utilising the data for quantity take off by their Quantity Surveyors. Autodesk have just acquired Assemble which integrates with Autodesk's Navisworks and Revit to better utilise this structured data further and has links to other project costing systems. 

Autodesk's BIM 360 Document Management is allowing all bid teams to gain access to project models, to view and interrogate the information easily with very little training. With powerful features such as model and drawing compare, any impact on design change can be visualised and considered in build costs quickly and picked up in the bid submissions. The viewing capability of BIM 360 allows stakeholders to get engaged, and have informed discussions, that usually only took place when the building was nearly complete.

With the advancing technology in laser scanning combined with drones, surveys and topographical information can be quickly captured to provide a better understanding of the enabling works tasks, such as each movement, cut and fill requirements and any temporary works requirements. Recap 360 allows point cloud data out into the field on mobile devices to engage with the surroundings. This combined with augmented reality starts to show us our sites in a live environment before we even put a spade in the ground. 

Construction sequencing gives the contractor and the client confidence that the building can be delivered in the required time frame. Providing visibility of the build at key milestone stages, what impact the site will have on the surrounding areas, consider delivery strategies, laydown areas, tower crane lifting plans, and much more.
Scheduling
We are all too familiar with typical construction plans and scheduling work for the whole project delivery, but little has been done to improve how short term planning is managed and delivered. This is where applications such as BIM 360 Plan and BIM360 Build start to impact our day-to-day running on a site. 

BIM 360 Plan focuses on the next few weeks of delivery on site, the details of the required tasks and the labour required to ensure the time is met. Traditionally done via post-it notes, BIM 360 Plan tracks task progress and informs the delivery team of the activities being carried out around them.

Linking these tasks into BIM 360 Field allows us to tag and track materials from manufacturers, through delivery and into installation and signoff. By the simple use of barcodes or QR codes, tablets can scan the ID and allow the delivery team to change the status of their tasks. It doesn't stop there; we can utilise barcodes for rooms and spaces so that site managers can see the activities being carried out across the site and check against the scheduled activities presented in BIM 360 Plan.
Costs
BIM 360 is really beginning to penetrate the way we use digital data on our construction sites, reducing the amount of downtime looking for information and more importantly providing the right up-to-date information.

Using BIM 360 on a project allows the whole team to access relevant data needed for them to complete their day-to-day activities on site.  If a question or query is raised while out in the field, the data can be accessed quickly from BIM 360, reducing the need to walk to and from the site cabins. 

Electronic forms are starting to replace paper which previously needed to be completed, tracked, recorded and manually stored in the project document management system. Digital forms in BIM 360 can reduce on site costs and keep all the data centralised for reporting and analytics.

The 3D viewing capabilities allow effective design review meetings and clash management reports, supported by tools such as Navisworks, to be conducted in real time. BIM 360 Model Coordination is also starting to automate our clash management process altogether. By structuring 3D model views correctly on upload to BIM 360, automated federation and clash rules really start to impact this process. Automated grouping and ability to assign and approve clashes is beginning to present an alternative way of clash management and visualisation for the wider project team. Whilst this has been managed in Navisworks for many years by specialists, automated clash grouping alone will save days in this process. We need to resolve clashes before we start to build on site and automated systems is the way forward. The longer we leave issues in a project the more expensive it gets to resolve the interference.

Cost Management has been introduced to BIM 360 which is now bringing BIM and cost control into a single environment so a change, and the impact it has on the project, can be quickly tracked and monitored.
Quality
If we try to increase quality, we usually have to pay for it in time or money, but technology is starting to impact and increase our quality of delivery. Due to co-ordinated, federated designs and the clash process, we are seeing fewer defects and issues on site as we resolve them virtually rather than on the job site. The amount of rework is being reduced as issues are raised and tracked through the project platform such as BIM 360 where issues, comments and RFIs can all be raised, assigned and tracked to present a quick monitored solution to the problem.

Disputes are now happening around a table in a 3D virtual world and once we have as-built assets, these are being captured and verified via laser scanning. Applications such as Clearedge3D's Verity can be utilised to check build tolerances to reduce issues further down the build during fitout.

Digital checklists ensure procedures and compliance points are being followed and monitored with automated reporting and analytics to present results and progress. If things don't go to plan and an incident occurs, installation guidance and checklist pushed to our supply chain ensures procedures are followed and delivery and installation can be captured for lifetime records.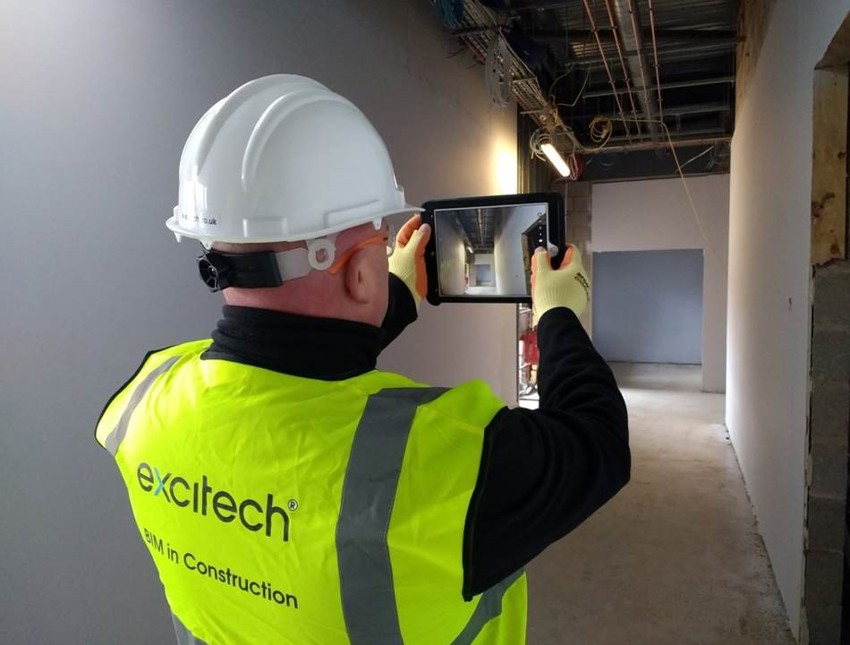 The data we are supplying to our clients at the end of the project is beginning to increase due to the ability of capturing as-built data during installation. Serial numbers, model numbers and installation dates are all recorded in BIM 360 and pushed into the client's CAFM (Computer Aided Facilities Management) systems at handover. This is impacting and linking information traditionally delivered in Operations and Maintenance Manuals which are often overlooked once a project is handed over.
Safety
Safety is always at the top of the list, we need to do everything we can to ensure our workforce go home safely at the end of each working day. Technology is raising the awareness of all the activities being carried out on a site and with digital information centres being utilised, the 3D environment is being used for morning briefings and awareness sessions. Large touch screen monitors loaded with BIM 360 is allowing us all to engage in the digital world no matter what your trade is.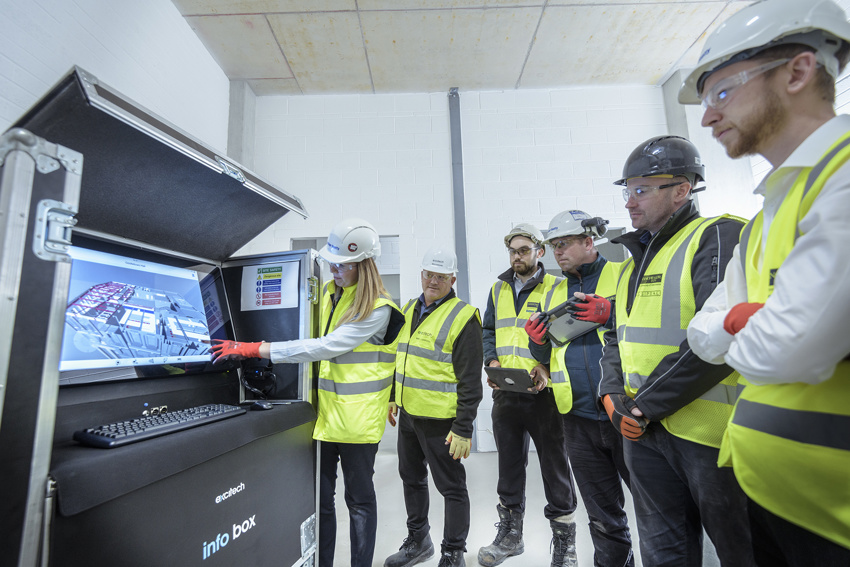 It may sound like something from Star Wars but wearable tech is making its way onto our sites, with devices in high-vis jackets that track our location on site and warn us of any Health and Safety or Construction Design and Management (CDM) Regulation issues, to sensors in hardhats that warn us if our labour force fall or need assistance.

As issues and incidents or near misses are recorded in BIM 360 we are seeing applications such as Insights, which use machine learning and algorithms, collate these and present warnings to project stakeholders and also used on other projects to help prevent the incident from recurring.

Technology is all around us today, from homes to cars and even the office, so why should a construction site be any different, it shouldn't. There are many benefits in implementing technology on our sites, but more important is how we use and implement this technology. It needs to be simple and available to all otherwise the construction industry will never move on from paper and labour-intensive delivery. We will soon see robots and machines becoming the norm on our sites but let's get the basics right first and let technology impact our standard delivery methods we utilise today.

If you would like to learn more about digital construction or the products mentioned in this article, please call 0345 370 1444 or email info@symetri.co.uk