Manufacturing Trends – How to embrace the change, by focusing on the opportunities.
At Symetri we have a dedicated manufacturing (MFG) team, skilled to guide our customers with development in emerging technology and processes linked to manufacturing industry trends. 

Symetri is an organisation that share the same challenges as our manufacturing customers. We must be mindful of this competitive differentiation by focusing highly on how we can support our customers in these challenging times, by enabling them to work smarter for a better future.
As an Autodesk reseller, Symetri shares parallel thought processes with Autodesk. Symetri has a very strong drive to build a trusted relationship with all customers. This relationship must be driven by an understanding of the industry in which our customers are competitive.
---
Challenges and Pressures within Manufacturing, in the UK and around the world
As an example of existing challenges and pressures, here are some facts and statements based on the UK Manufacturing Sector.

The UK remains the 9th largest manufacturing nation in the world.
The UK and the world witnessed an unexpected 2020/2021, with the turmoil of two major challenges, Brexit and the global pandemic (COVID), undoubtedly the UK are facing the pressure of these extraordinary times.
COVID
When the nation began this fight against COVID it was difficult to understand what the industry would look like with local and national lockdowns. In the coming months of the COVID, battle manufacturing MAKE UK reported that 35% of manufacturers regard local and national lockdowns as the biggest concern.
As a result of the COVID crisis, most companies were faced with furloughing staff. MAKE UK reported 51% of manufacturing companies had no staff furloughed. Meaning that some manufacturing companies were able to sustain the effects of COVID, most likely down to the nature of how manufacturing workshops can social distance more easily. The data also showed that 50% of manufacturers made redundancies because of COVID.
The emerged data indicated that because of the COVID crises, manufacturing companies we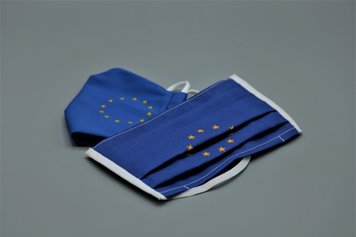 re at an immediate disadvantage because of out-of-date technology and processes. Leading to crucial actions on improving innovation, communication, and systematic processes throughout and across the whole manufacturing supply chain.
Brexit
Any business operating in the UK, Northern Ireland, and EU markets is affected by Brexit.
Company interaction with the EU market will be more complex and long-winded because of Brexit. Supply chains will suffer as a result, having to deal with new regulations and inspections.
New jobs will be needed to help accommodate these new regulations and inspections. Companies will have this increased outcome to create jobs roles that may not have existed before Brexit.
Other particularly key factors have and will continue to have an impact on manufacturing in the UK and around the world including, the skilled labour gap, digital supply chain, products as a service (PAAS), direct to customer (D2C) selling, and automation.
---
These current challenges have sparked other pressures from a global marketplace. As a result, Symetri and Autodesk have recognised the following as additional factors globally:
Increasing world population – more products, faster, cheaper, in a global marketplace with global competition from lower-cost economies. The impact of technology on an ageing workforce, the loss of experience in the workplace, and opportunity in new digital-native workforce and automation to replace or enhance that experience.
Climate change and sustainability – the drive to eliminate detrimental environmental impacts move toward zero-carbon, energy and raw material usage – ESG (environmental, social, governance) pressures are all pushing companies to focus on new manufacturing techniques, materials and ways of working to address these.
Increased Global Competition – a rise in new disruptive businesses, across a global market, diverse design and manufacturing teams needing to collaborate, bringing opportunity with digitalisation and cheaper computing (cloud) power.
These challenges, pressures, and inevitable impacts lead to potentially unanswered questions, that businesses might ask themselves:
How can we deal with these threats and impacts?
How will we respond now and in the future?
How can we gain support from 3rd party relationships?
Before answering some of these questions, think about how the world is making now and how the making process is changing.
Making
What the world makes is changing radically. This includes the way we make it, the technology used to make and the nature of the workforce that will make it.
Customisation and configuration are massively growing factors, with increasing demands. How a product or building is matched to the needs of humans has become more emotional. From the first time a customer is engaged with a service, their impression is vital. Changing processes and technology to meet many needs, acting on valued service and maintaining connectivity are now critical elements during design, engineering and manufacture.
Therefore, products as a service (PAAS) and direct to customer (D2C) models have emerged. These services are mined for information to help "make" better by adding new revenue streams.
New technologies are developing to aid customer requirements, for example, advanced additive manufacturing, hybrid manufacturing, flexible & configurable factories and new advanced materials.
In the background, Manufacturing and Construction are converging, for example, construction is being automated with prefabricated modular builds and supply chains are becoming increasingly connected via the cloud. Digitally experienced workers are key to these shifts in convergence. New job titles are being created to support already existing teams, in manufacturing and construction, for example, Chief Innovator, Digital Officer and Data Analysts are some of these emerging job titles.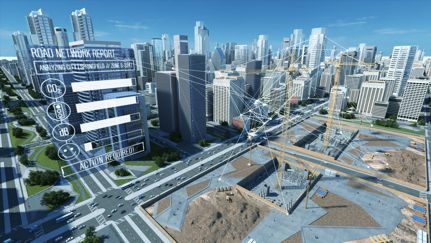 So, to help answer the above questions: How can we deal with these threats and impacts? How will we respond now and in the future? How can we gain support from 3rd party relationships? think about the opportunities and outcomes, that can be planned and actioned to overcome these challenges and pressures.

Opportunities
The manufacturing sector has been reporting on a "digital disruption" for several years now so the terms, industry 4.0, digital factories and IoT are not new to most. Some have embraced these new revolutions, implementing them fully or compartmentally.
A digital transformation is replacing the more traditional ways of working. The opportunity to implement these technologies has never been more prominent when we look across current supply chains and see the disruption caused.
I personally believe visualising these opportunities with a more advantageous approach would be more productive. A positive method can only add to an already strong business sense, by taking the opportunity to advance with digitalised enhancements.
Here are some ways to embrace the change positively and answer the outstanding question "How can we deal with these threats and impacts?"
Accept the change
Be proactive, not reactive, positivity breeds positivity
Remove old habits, "we have always done it this way"
Become more agile, think about how you could make changes in the future easily
Lean on your experienced workforce, expert professionals who can help work through this change
Think smarter not harder
Outcomes
Embracing opportunities will lead to enhanced outcomes in areas such as digitisation, collaboration, innovation, connectivity and skills. These possible outcomes can be seen below, which will help answer the question "How will we respond now and in the future?"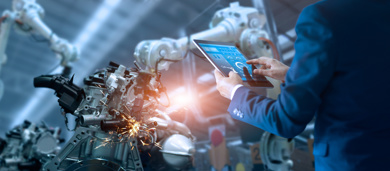 Digitisation – enhance your end-to-end process with digitisation, introduce IoT for supply chain collaboration and inventory management
Utilise Digital Twins – if possible, introduce a digital twin, which can be manipulated and optimised as a replication of your existing object or working production
Automation – improve throughput and accuracy, reduces errors and waste
Supply Chain flexibility – Industry 4.0 technologies can be used to provide greater transparency
Cybersecurity – working remotely has increased the chances of cyberattacks as we rely on remote connections, acting on this is essential now and for the future
Cloud-based software – team collaboration and remote working are most effective when your data is in one single source of truth, the bonus here is the attraction of a younger generation workforce.
---
Symetri is fully invested in empowering our customers with expertise in Product Design & Lifecycle, Advanced Manufacturing, Building & Infrastructure and IT Solutions. To answer the outstanding question "How can we gain support from 3rd party relationships?"
Symetri has more than 450 employees with 150,000+ daily users in northern Europe alongside Autodesk with 700 software developers in technical and consulting teams.
Autodesk has invested $1bn in Advanced Manufacturing Solutions, with global technology centres focused on advanced manufacturing innovation, driven using specialised software including  Powermill, PowerInspect, PowerShape, FeatureCAM, Fusion 360, Netfabb and Moldflow.
As a reseller, Symetri has direct access to Autodesk's offerings, enhancing our expertise and providing an unstoppable force to aid your manufacturing needs as well as investigating other areas of the business if addressed.
Symetri UK has a dedicated Advanced Manufacturing Team who can aid your transition. Please take the opportunity to contact us, we provide free 30 min consultations, where you can chat with us. 
References:
Manufacturing Industry: Challenges & Trends for 2021 | Mitrefinch
Manufacturing Monitor 08/02/2021 | Make UK