We Have Takeoff!
Introducing Autodesk Takeoff - the latest product released to the new Autodesk Construction Cloud (ACC) unified platform. 

Following the release of Autodesk Takeoff, the latest product added to the new Autodesk Construction Cloud, we thought we'd outline some of its key features and benefits.
So what is Autodesk Takeoff?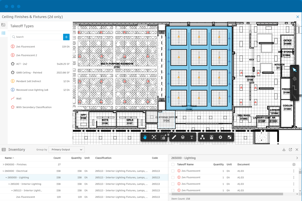 This tool empowers estimators to perform 2D and 3D quantification workflows from a common data environment to produce quality estimates for faster, more accurate bidding. This latest release joins Autodesk Collaborate and Autodesk Build (released last month), as part of the new Autodesk Construction Cloud unified offering. All modules sit on top of the ACC unified platform which along with your selected modules, includes document management (Autodesk Docs), insights, dashboards, reports, project setup and permissions control as standard.
What are the benefits?
Our initial testing and understanding of the solution show its key benefits to be:
Single source of truth - the creation of a single solution allows design, construction and estimating teams to work from the same model.
Time savings – accessing quantities from the model can provide tremendous time savings and improved project scope visualisation.
Ease of collaboration – multiple estimators can simultaneously work on the same project.
Integration - with Autodesk Takeoff sitting alongside Autodesk Collaborate and Build, the whole construction team can work from the same source, with no risk of work duplication and no need for unwieldy data transfer

In summary, it works well as a takeoff tool, simplifies your technology stack, and allows for more collaborative working across all your pre-construction and construction teams. Watch the video below to see Autodesk Takeoff in action.
---
As Autodesk Takeoff has just been released, we are learning more about the product everyday. If you'd like to find out more or discuss your estimating requirements in detail, please don't hesitate to get in touch.
Symetri Construction also run the #WorkSmarterWednesdays webinar series every other Wednesday at 12pm, providing information, insights and product demonstrations which will feature all of the new Autodesk Construction Cloud solutions, click below to sign up.
Want to stay up to date with the latest news, events & insights on the Autodesk Construction Cloud unified platform?
Sign up to our emails.