BIM Level 2 Accreditation and Certification | ISO 19650
Gain certification in the design and construction process as 'BIM ready'
Key Advantages of BIM Level 2 Accreditation and Certification | ISO 19650-2
The UK Government now requires all public construction projects to be performed by 'BIM Ready' organisations. The mandate has brought about an increased awareness and an appreciation of the benefits associated with its adoption. With many organisations already on their road to BIM Level 2 compliancy, certification and the implementation of the new ISO 19650-2 provides a way of underlining that investment and provides some of the following key advantages:


BIM Compliance
Evidence of an organisation's BIM capabilities of undertaking BIM Level 2 Certification | ISO 19650-2 projects
Enhancement of your organisation's reputation
Reduced time and cost associated with responding to tenders
Win more business through marketing your BIM capabilities
Lloyd's Register BIM Level 2 Accreditation and Certification | ISO 19650-2 Accreditation

Symetri are working in partnership with Lloyd's Register in the delivery of the BIM Level 2 Certification | ISO 19650-2 Accreditation process that certifies organisations involved throughout the design and construction process as 'BIM Ready'.
Interested in finding out how to become BIM Accredited?

Book an appointment with our expert by filling in the form and we'll get back to you to arrange a suitable date and time.
BIM Level 2 Certification | ISO 19650-2 Accreditation demonstrates compliancy to a number of specific standards e.g. ISO 19650-1 and ISO 19650-2. The following bullet points provide an insight into the areas reviewed, and further detailed information is available within our pdf 'BIM Level 2 Accreditation Guidance Document', available below.
Assessment of Organisation and Structure
Assessment of HR, Training and Competency
Assessment of Configuration Activities
Assessment of Procurement and Subcontracting
Assessment of Risk Management
Assessment of Process Control
Assessment of Process Monitoring and Improvement
Useful Documents
Here are some useful documents to offer you guidance and answer any questions you have.
Download the BIM Level 2 Accreditation Guidance Document here
Download the New ISO 19650 Q&A here
The ISO 19650 standard is an international standard for managing information over the whole life cycle of a built asset using building information modelling (BIM). This document explains how those in the UK can apply the standards locally and is a very useful guide but can only be accessed by purchasing a copy of ISO 19650-1 or 2.
About Lloyd's Register

Lloyd's Register (LR) is a global engineering, technical and business services organisation wholly owned by Lloyd's Register Foundation, a UK charity dedicated to research and education in science and engineering.
It has been in operation since 1760, providing over 250 years of industry experience. The organisation has significant capacity with 9,000 employees working throughout 78 countries and has a well-known reputation for integrity, impartiality and technical excellence.
Lloyd's Register are the most well-known and respected global stamp of approval.
---

Just like ISO 9001, BIM Level 2 Accreditation & Certification is a quality management standard helping organisations of all sizes demonstrate they deliver a consistently high level of professional service. In fact, if you already have ISO 9001, you'll find that some of the hard work has already been done and therefore can contribute significantly to your BIM Level 2 Accreditation & Certification.
The Processes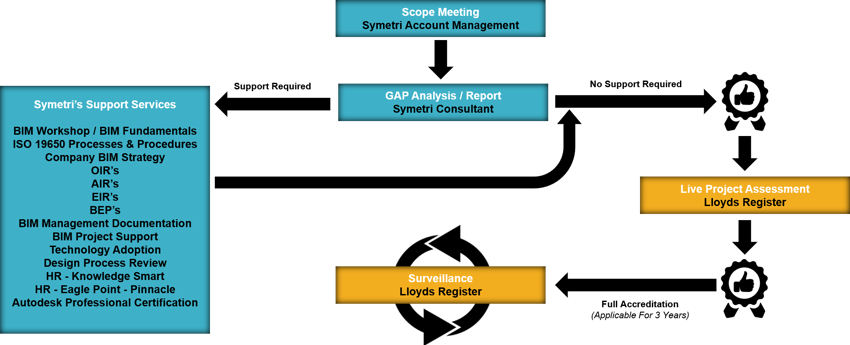 Contact us
Please submit your enquiry here and a member of our team will get in touch.
Alternatively call 0345 370 1444
Key Advantages of BIM Level 2 Accreditation and Certification | ISO 19650-2
The UK Government now requires all public construction projects to be performed by 'BIM Ready' organisations. The mandate has brought about an increased awareness and an appreciation of the benefits associated with its adoption. With many organisations already on their road to BIM Level 2 compliancy, certification and the implementation of the new ISO 19650-2 provides a way of underlining that investment and provides some of the following key advantages:
BIM Compliance
Evidence of an organisation's BIM capabilities of undertaking BIM Level 2 Certification | ISO 19650-2 projects
Enhancement of your organisation's reputation
Reduced time and cost associated with responding to tenders
Win more business through marketing your BIM capabilities