Maintenance to Subscription
Autodesk are offering customers with active maintenance plans the option to switch to a subscription.
Over the past few years, Autodesk has been transitioning to a subscription only licensing model. From the introduction of term based subscription licences to the discontinuation of new perpetual purchases, the latest milestone in Autodesk's move to one model is to offer its maintenance plan customers the option to switch to a subscription.
What does this mean?
You can choose to switch your Autodesk maintenance plan to a subscription when your renewal is due (90 days before expiration). You will essentially agree to stop using your current maintenance entitlement and will gain access to products and services under the Autodesk subscription model.
The switch to subscription, in many cases, will be for less than your maintenance renewal, providing you switch to the same product mix - multi-user costs may initially be higher (contact us for details).
You can switch to the same product or move to an Industry Collection: The Architecture, Engineering and Construction Collection; The Product Design and Manufacturing Collection; or The Media and Entertainment Collection.
You will continue to use your existing maintenance products and benefits until the day after your renewal date - at which time your new Autodesk subscription offerings become available.
What are my options?
All customers with active maintenance plans will have three options when their renewal is due:
Renew your maintenance plan
Switch your products to subscription
Upgrade to an Industry Collection
What do I need to know?
You can read the full FAQ via the link below, but to get started, here are some important points:
Maintenance plan costs have increased beyond the cost to switch over the past few years - meaning it is more expensive to renew your maintenance plan.
Autodesk have announced a price roadmap for switched customers: 5% increase every other year until 2028 after the initial price lock (if switched before May 2019).
New option for Switched Customers
If you have already switched to a subscription on an annual term, Autodesk are enabling customers to renew on a 3-year basis, a new option not previously available and still not an option for non-switched renewals. This will extend your price lock in period (if switched before May 7th 2019) as well as benefitting from a 10% 3-year discount.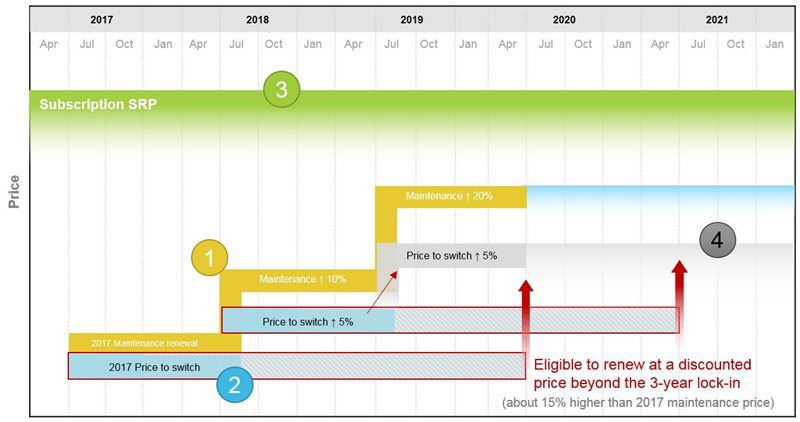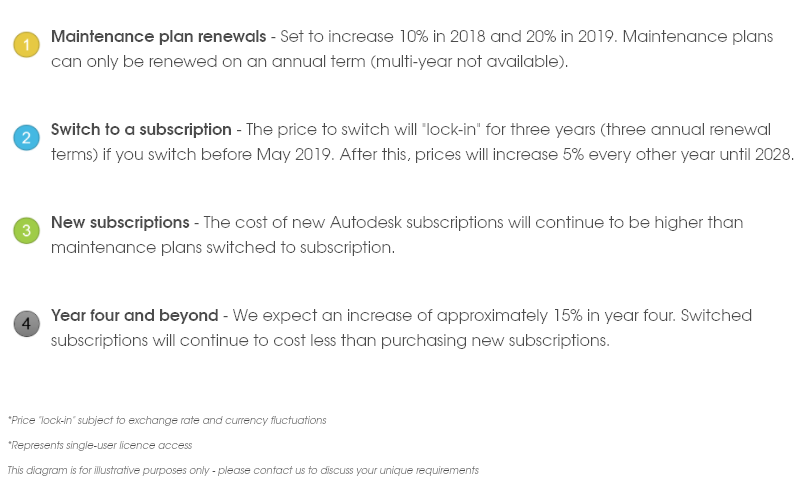 The term you select is the term you must renew at moving forward (update: see "New options for switched customers")
Multi-user licences must update their licence file at time of renewal.
Select your product carefully (like for like or move to a Collection) as this cannot be changed once switched.
You can switch for an annual or multi-year term
You cannot change your user access when switching (for example, single-user to multi-user)
Switch to an Industry Collection
You can switch eligible individual products to an Industry Collection at a discounted price.
The cost will represent the most comparable maintenance plan product renewal cost. So switching to an AEC Collection will carry the same cost as the Building Design Suite Premium maintenance plan renewal (single-user, multi-user licences carry an additional 30% - Effective November 7th 2017).
As an example, moving an AutoCAD maintenance plan to an AEC Collection.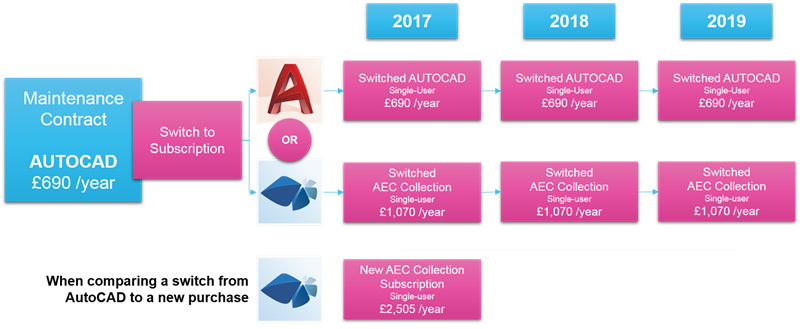 Architecture, Engineering & Construction Collection
Contains: AutoCAD, Revit, AutoCAD Civil 3D, Navisworks Manage, 3ds Max and more. Full details here
Product Design Collection
Contains: AutoCAD, Inventor Professional, AutoCAD Mechanical and more. Full details here
Note: The below video was created by Excitech prior to becoming Symetri in January 2021, following its acquisition by Addnode Group. All Excitech products, services and solutions mentioned in this recording are available through Symetri.