Choosing the right hardware for CAD applications
Having the right IT hardware is crucial to any successful business strategy, and at times it can be a very complex area where some businesses need to rely on third party suppliers for what they need, but… are you getting the best deal each time?
If you are an existing client, (or looking to Symetri as a new supplier) it may well be that you haven't necessarily had a direct conversation with us around IT hardware or solutions, and this may purely be because you were unaware of what we have to offer. However, it is important to remember that as much as we are leaders in the supply and training of CAD software such as Autodesk and Revit, we are also well placed to support you with your IT needs regarding CAD software uses.
So, if the above sounds like you, and you rely on third party suppliers for your IT support and hardware, please be aware that Symetri and its IT team are here to assist and hopefully to help your business grow into all that it can be, and create innovative opportunities to support your clients.
As part of Symetri's on-going goal to grow clients with everything their business needs to work smarter and push the boundaries of what they can achieve, we have set out a new guide to help clients to understand what hardware will be best placed for them, specifically around the software being used in day to day work of end users. For example, when purchasing AutoCAD licenses, we can include options to purchase a new laptop/workstation along with any other peripheral hardware for the end user that meets (or exceeds) the required software specification. This will ensure you always have a well performing machine that improves the end user experience overall.
We are already providing clients (both new and existing) with our in-house expertise on all things IT. This ranges from full support contracts and IT audits, through to productivity software (Microsoft/Adobe) and security solutions such as firewall appliances and antivirus applications, and full disaster recovery and backup solutions for business continuity.
Most commonly, we provide clients with standard, and bespoke workstations and laptops designed to offer the best performance based upon the intended software use and how much workload will be expected. It is for this reason that our workstation recommendation guide been used by clients in the past and is regularly updated with changing hardware technologies.
Download a copy of the latest guide for 2022/23 and share with anyone who you feel may find this useful. Alternatively, take a look at our mobile CAD workstation bundle here.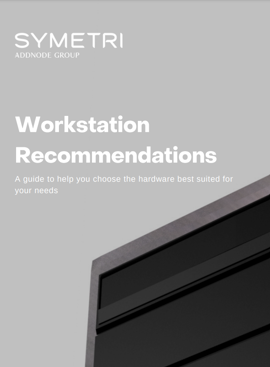 To find out more about what we can do, or for a further discussion around any other questions or requirements that you may have, please get in touch with us via the details below: