Getting started with Autodesk Fusion 360!
So, you have access to Autodesk Fusion 360, as a single subscription or part of the Product Design and Manufacturing Collection, what now?
Fusion 360 can be installed on your desktop or laptop using the same downloadable techniques as the other Autodesk products in the PD&MC. Go to your Autodesk Account online to install this application.
When installed and run for the first time you will be prompted to create a new Fusion Team,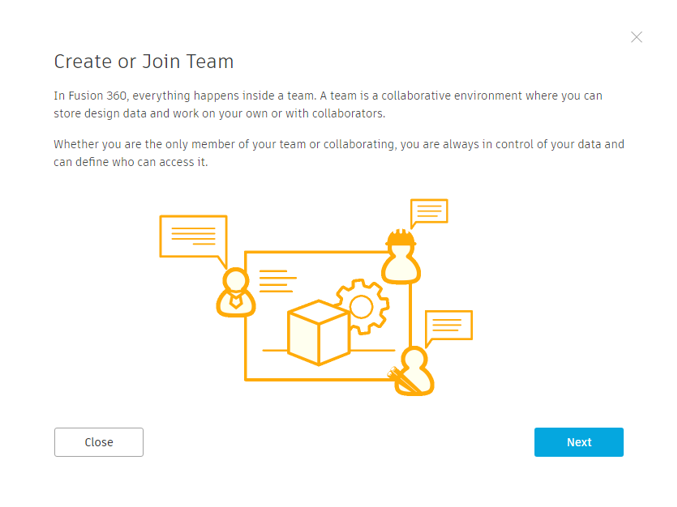 So, to help you understand what a Team is, here is a quick rundown.
What is a Team?
A team is a collection of people creating and accessing design data for a project. This design data could be Fusion 360 files, other CAD formats, PDF files, Excel files images and other files types.
Anyone with an Autodesk account and access to Fusion Team can create one team and be a member of multiple teams. Users can create share links that are sent to collaborators for viewing design data.
What's is a project?
A project is used to store design data in an organised manner. Management of these folders can be enhanced using Fusion Team functionality. Meaning team members can access the team but may only have access to view certain projects.
It is advised to consider the ownership of your data when using Fusion 360 with Fusion Team. As an Autodesk Fusion 360 user, you will have access to your own HUB (single-user storage), which is owned by you as an Autodesk User. When you create or join a team, then this could be as part of a company global integration into Fusion 360 and therefore your organisation will be the owner of this data.
For example……
If you are a contractor, hobbyist or personal user with an Autodesk Fusion 360 subscription you may want to only use your personal HUB with the addition to create and use a Team to share external details. Be careful though as you may find it difficult to share data between a personal HUB and a Team. Here is what your personal HUB will look like on the web.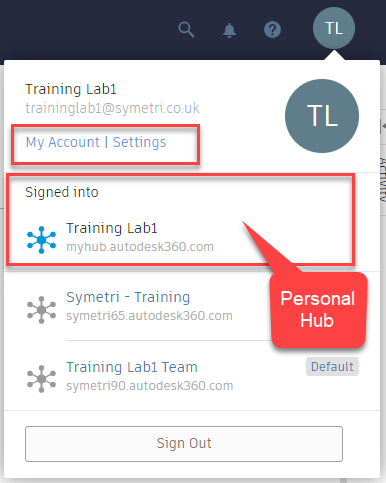 If you are a designer or engineer working for an organisation where you would like to share content including cross-reference through projects, then creating a global Team is best. There are more administration focused tools to hand using Fusion Teams functionality. It is therefore important that someone in your organisation creates a team, possibly the Autodesk Account Manager then all members of the organisation can join this Team. Here is an image of what a Fusion Team would look like as admin on the web.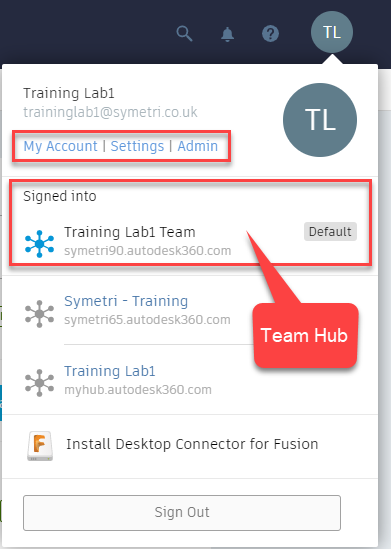 After you have set your personal or team HUB, make sure you take the time to familiarise yourself with the in-application settings through the data panel in Fusion 360.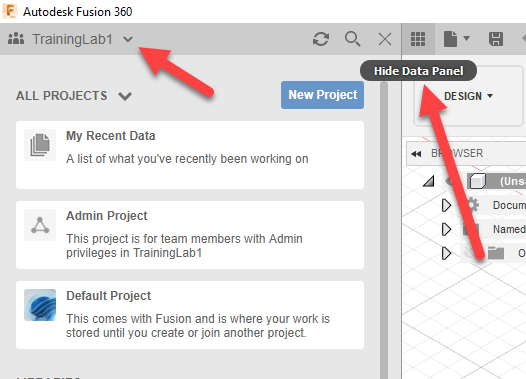 Pay attention to the small icons on the dropdown list to change HUBS: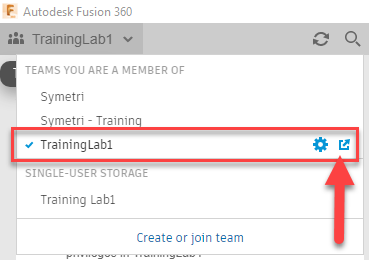 This icon will take you to the web browser for your personal or team HUB.
Team administration can control areas of the team site by manipulating the following settings:
Team settings – Team Name, File Sharing and Access to invite team members
Members and Roles – Adjust team member roles and invitations for team members
Project – Manage the project role of the team members
All you need to know about Fusion Teams can be found here: Fusion Team | Search | Autodesk Knowledge Network
Good Luck with your set up and enjoy the use of Fusion 360 it is the future.
Getting started with Autodesk Fusion 360!
The video will show you how to log in and get started with Autodesk Fusion 360!