Autodesk Inventor Training
Maximising Model Intelligence by Utilising Autodesk Inventor Environments
This blog takes a look at how you can add further intelligence and take your Autodesk Inventor models to the next level by utilising the extra environments incorporated within the software.

Since Inventor was released back in 1999 Autodesk has continuously added new functionality to the program as well as incorporating existing software, allowing for the creation of distinct environments. These additional environments allow Autodesk Inventor to become more 'industry specific' and enable users to only access the functionality they require for that specific topic.
These environments are something that is seen when navigating through Inventor but users will be unaware of the full potential of what can be achieved. They allow for simpler model creation and the ability to inspect, analyse, and convert models into different file formats. Taking these few extra steps by adding further intelligence to your model allows for a gain of results that may have been thought too costly or even impossible.
When entering an environment the layout of the software will change and only applicable tools for that environment will show, eliminating time spent looking for specific tools or features and allows for the creation of workflows giving you structure when creating an analysis, or creating an industry-specific model. The workflows have been designed individually for each environment but keep the same Inventor theme throughout.
As well as the standard part, assembly and drawing environments here are some of the others included within the Inventor Professional package along with a brief description of their purpose:
| | |
| --- | --- |
| Environment | Main Purpose |
| Presentation | Generation of exploded views and creation of short video clips |
| Sheet Metal | Designed specifically for sheet metal industry, creation of sheet metal parts including flat pattern generation |
| Weldment Assembly | Addition or conversion of weldments to assemblies |
| Stress Analysis | Ability to run an FEA analysis on your model with customisable inputs |
| Inventor Studio | Still renders and animation generation to create photorealistic images and automation clips |
| Tolerance Analysis | Addition of manufacturing tolerances to understand mechanical fit and performance of your model |
| BIM Content | Conversion of models to BIM to export into Revit or similar software |
| Frame Analysis | Understanding of the deformation and stresses of a given frame to gain the structural integrity of the model |
| Tube and Pipe | Adds tools and reporting for the creation of tube, pipe, and hoses to your model |
| Cable and Harness | Creation of wires and harnesses in your Assembly, as well as reporting methods, and a connection with AutoCAD Electrical   |
| Dynamic Simulation | Prediction of Kinetic behaviour of models, including how it moves and what forces are involved |
Environments can be turned on or off using the add-ins option on the tools tab. It is to be noted that Inventor start-up times can be improved when turning off environments you don't use.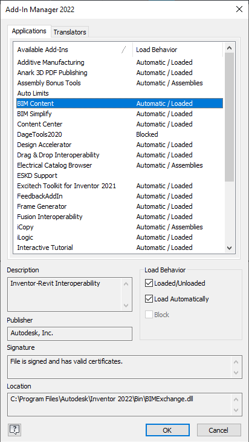 Environments are built into Inventor creating a few extra benefits, including model data being stored and saved within the model file itself, enabling users to find all the information in one place. Another key benefit is when making model changes during data transfer to other software applications the updates or alteration will still have a live link to the environment, allowing you to keep on top of the data's version. This removes any issues that come with data transfer and losing information when trying to update the model between data transfer.
At Symetri, Autodesk Inventor training can be provided in these additional environments. Take a look through our list of training courses and speak to your account manager to find out more.
Take a look at my earlier blog Improve productivity with Inventor training