Naming Conventions in BIM 360 and Autodesk Construction Cloud
When looking into a folder structure, normally it feels like we are re-inventing the wheel and looking for a document can sometimes feel as though you are looking for a needle in a haystack, and that can sometimes leave you asking yourself a bunch of questions:
Where did I store that file? OR
Where is my latest document? OR
Is that an image or a drawing?
Did someone delete that file?

Some would also go down the route of asking someone else where that particular file is and then before you know it the entire project folder gets audited by the colleague. One would then promise themselves that it will not get as bad as this in the next project – does this sound familiar?
In the middle of May 2021, BIM 360 and Autodesk Construction Cloud (ACC) released a Naming Convention functionality that is in now available for new projects within both platforms.
Who can create and apply the customised naming convention?
If you have Project Admin rights you can go into customising the Naming Conventions to suit your needs – whether that follows the National Annex to BS EN ISO 19650-2:2018 or whether you have an alternative naming convention for your files.
What a Project Admin needs to consider when adding a new naming convention to a project?
As the naming conventions are applied at folder level, we need to consider carefully how we apply the restrictions. My personal advice would be to ask yourself the following questions:
Does the naming convention need to apply to every folder?
What naming convention are you following? i.e., ISO 19650 OR other?
Do you have the correct attributes created within the project?
- It is the attributes that are accumulated together that form the naming convention in BIM 360.
Status Codes, Revision and Classification are some of the new features included within the latest update.
Status codes can be amended to the project needs.  Revisions is also an exciting new feature, particularly I found that on most client engagements there was always a request for Revisions to be included.
In some cases where files are uploaded that do not follow the naming convention specified by the Project Admin, those files can still be uploaded onto the BIM 360 platform – however they will be stored within a holding area.
Good to know: If you upload a document using the desktop connector that does not follow the naming convention set-out by the Project Admin, then this document would stay on hold within your "pending tasks" on your desktop connector and will not show up on your BIM 360 site.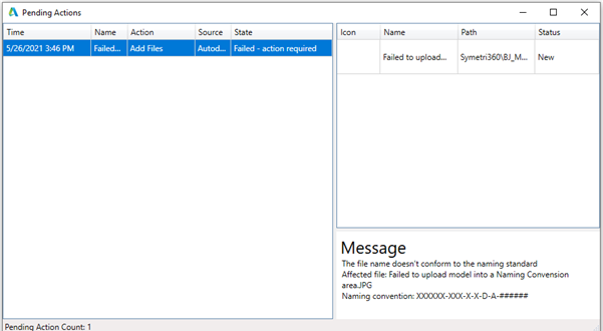 The below video shows a teaser of the Naming Conventions in BIM 360
TOP TIPS:
Attributes and Customising the Naming Convention:
You must add in the desired attributes first:
To comply with ISO 19650 we must add in the following attributes to the list of available attributes:
Functional Breakdown
Spatial Breakdown
Form
Discipline
Once you have added the desired attributes, you can then customise the naming convention.
Once a certain naming convention has been saved and applied, there is no way of changing it for that project.
Folders:
Naming conventions can be applied to certain folders, i.e. it does not have to be applied to all folders in a project.
Only applied to new projects and to folders that do not have files included in them already
Holding Areas:
When uploading a file directly into BIM 360, you are given the opportunity to place it within a holding area.
If you choose to upload a file that does not conform to the naming convention to a naming standard enforced folder, you would then be prompted to change the name so that it complies with the customised naming convention
If you try to upload a file via the desktop connector to a naming standard enforced folder and it does not follow the naming convention, the file would not upload into BIM 360 - a warning would appear in the desktop connector not the holding area in BIM 360.
Latest Updates:
You can now buy Autodesk Docs
ACC is now available on a European Data Centre
Watch on-demand our webinar recording for "An exploration of the NEW Naming Conventions feature in Autodesk BIM 360" which looks at how we can have standardisation in place when working within Autodesk BIM 360, through an exploration of its latest Naming Conventions capability.
For further information on BIM 360, visit our product page, here and for ACC, here. Alternatively, please get in touch via the form below.
Contact us
Please submit your enquiry here and a member of our team will get in touch.
Alternatively call 0345 370 1444