The Complete Guide to Product Data Management

The following is an extract from a whitepaper compiled by Autodesk
Engineers spend, on average, 15% of their time managing data, and some routinely waste the equivalent of one day a week or more in doing so.
Then, when you need to share this data with colleagues, you have to release and track a series of PDFs, spreadsheets, and design files, and it only gets more complicated when working with third parties.
Much of this waste is due to the simple fact that Windows Explorer wasn't made for engineers. And it certainly wasn't made to manage and collaborate with CAD files.
Which common data management and collaboration challenges do you experience most often?
When sifting through thousands of files, you wish you could search for more than just a file name.
Too often, the data you're looking for is spread across local drives on individual workstations and shared folders on assorted servers.
You dread copying or renaming files. It's tedious and you typically need to repair broken references.
When you work with other engineers on a project, you worry constantly that they will overwrite your files.
You manually maintain spreadsheets that document every instance where parts and subassemblies are used.
When you need to work with external parties or multi-site staff, file formats and firewalls lead to complications.
To overcome these challenges, you need a file manager that's made just for engineers. It should understand the complexities of CAD file relationships, help you find the files you need when you need them, and most importantly, make it easy for you to collaborate with your colleagues.
What is Product Data Management (PDM)?
When you catch a cold, you usually won't start feeling well again until you make a trip to the doctor or do something to treat the illness. Problems managing your documents, design files, and data work the same way. If you ignore them, they aren't going to go away. In fact, they'll probably only get worse.
Think of PDM as your cure-all remedy. It's a one-stop shop for all product-related information and engineering processes, where everyone on your team and each of your collaborators can come together.
A strategy for managing your product-related information and engineering processes, all in one spot. PDM comes down to data, people, and process.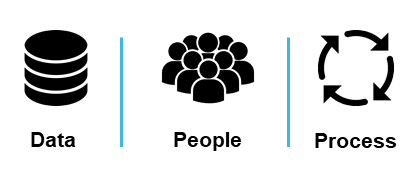 Data is all about managing the files and metadata that make up the source code for your product. 
People is about the challenges your engineering and non-engineering staff have while developing the product. 
Process is about the challenges with maintaining standard procedures throughout development.
Managing design files
Personal data management
Maintaining control over your documents can make or break the success of your projects, especially when it comes to deadlines. But countless factors can undermine your efforts, like unorganised and unprotected shared network folders, messy and unmaintained spreadsheets, and hardware failure. This leaves your intellectual property at risk, and data difficult to find and reuse. PDM solutions can help you keep your data safe by keeping it in one place, setting permissions, backing up your data, and tracking files and revisions.
Finding data
When engineers are asked about their data management challenges, they typically identify search and retrieval of design files as top issues. In fact, 46% of those involved in product development cite "finding the right information" as a top design challenge.
Finding a file should be a simple task. But too often, the data you're looking for is spread across local drives on individual workstations and shared folders on assorted servers. There's also the problem of volume; With multiple people contributing to hundreds of projects, thousands of files can accumulate over time, and the only criteria you can consistently search for is the file name.
Top Design Challenges Related to Data Management
This all adds up to a lot of wasted time. When you can't find the files you need, you may end up wasting even more time designing something that may already exist, which is compounded by the need for additional investments in tooling or redevelopment of manufacturing processes that were already available for the design you couldn't find. These situations make clear why Windows Explorer is simply not up to the task.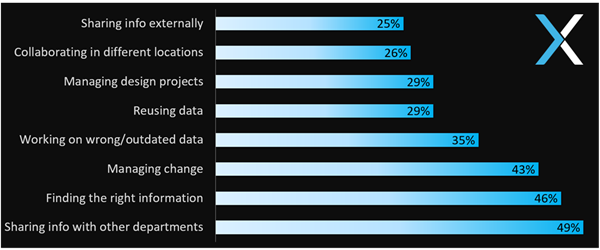 Solutions available from Symetri
Symetri provide a range of Document & Data Management systems spanning across a spectrum of different industries. Many of our customers utilise the Autodesk Product Design & Manufacturing Collection within our industry focus which includes core products such as AutoCAD & Autodesk Inventor. The Symetri team promote the use of Autodesk Vault Professional which is driven by the level of interoperability between the different Autodesk applications and subsequent benefit to the user. 
Through the provision of the necessary licensing, training, consultancy, technical support and required IT infrastructure, Symetri can provide a full turn key solution to your Data & Document Management needs.
Autodesk Vault Professional has a comprehensive range of functionality allowing such challenges to be directly addressed including,
Controlled access
Advanced search capability

Search for more than just file names
Use multiple search criteria
Save your common searches

File association management

Copying existing design to create new versions whilst maintaining the complex file associations
See where parts or subassemblies are used in turn appreciating the impact of design changes or the creation of new versions
Rename and automatically have complex files associations updated

Collaboration for internal and external stakeholders
Release and change process

File history incorporating both version and custom revision control
Reviewing & approval workflows
Tracking and control
Custom lifecycle management e.g. WIP, checking, approval, released
Engineering Change Order (ECO) process

Review and feedback
BOM Management
Link to (ERP) Enterprise Resource Planning technologies
Our partner Autodesk have complied a guide to managing engineering data, people, and processes. Read the whole whitepaper and get an understanding of the full benefits of PDM and the solutions available here.