Windows 11 Key Updates: A new milestone for empowering your hybrid workforce
In this blog post, we outline some of the key changes introduced in Windows 11 and how it is tailor-made for the hybrid workforce.

It's been 10 years since Microsoft released the Windows 8 Operating System in a bid to promote a transformation in the way that we use devices. For instance this release initially helped push users towards tiled interface layouts and becoming more mobile through the use of tablet hardware and so on, but ultimately, this version was not a success as it was a transformation that many were not ready for.
In 2015, after a complete overhaul of their offering, we saw the release of the Windows 10 Operating System which the majority of us are using today. To date, Windows 10 has been a big hit with mobile and desktop users alike, with around 1.3 billion active devices using this Operating System globally.
If the past few years has taught us anything, it's that technology used by organisations all over the world, must ensure they have a secure, resilient, and perhaps most importantly, a flexible infrastructure as a foundation for business continuity. The quality of the operating system onto which end users work from, is pivotal to that.
Last month (October 2021), Microsoft launched the much anticipated latest version of its Windows operating system, Windows 11. In many respects, Windows 11 continues off the success of its predecessor, with several security and feature enhancements to add to the strong base that end users have come to know. In fact, it is possible to prepare and deploy windows 11 alongside windows 10 using the same processes and applications, making it an easy transition for IT management.
In this latest iteration, Microsoft have included features that deliver a more streamlined and personal user experience, without compromising on security or performance. Windows 11 has been tailor-made for the hybrid workforce, allowing for maximum productivity within the user interface's fresh new layout.
Here are a few of the key changes introduced in Windows 11:
Design and Interface

Featuring a new centered task bar, and smooth edging with pastel colour shades. Microsoft Teams has now also been integrated and included directly from the task bar.
Android App Integration

Android Apps will become available shortly after the launch meaning that users can better transition between mobile and PC devices. Microsoft ensures compatibility with 'App Assure' to cover security and performance of any known apps to be used.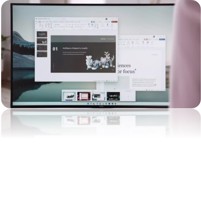 A feature that was available in Windows 10 but previously harder to setup and use, this will enable users to switch between different sets of apps for personal, work, education, leisure and more.
Fixed Layouts 

The new 'Snap Layout' feature will allow for collections of apps you are using all together, to sit in the taskbar and be minimized/maximised together for easy switching between monitors. This makes it easier to unplug a monitor without losing where your open windows are due to changing screens.
Enhanced Touchscreen, Voice and Pen Support

Microsoft have now incorporated spaced icons, hand gestures and added haptics to the digital pen allowing users to hear and feel as they make use of their device for drawing. Voice typing has also been introduced, as well as commands across the whole OS.
Security

Security is covered from chip to the cloud with secure-core PC's offering firmware layer protection for devices, right down to BIOS level. 'Windows Hello' features password-less facial recognition options for users without sacrificing the quality of their security whilst providing a smooth, seamless login experience.
Can I get Windows 11 now?
The upgrade has been available from 5th October 2021 and is available to users with Windows 10 who meet the qualifying CAD workstation requirements.
Before you upgrade, there are a few simple steps we recommend you take to ensure an easy roll-out. First and foremost, check your CAD workstation meets the required Windows 11 specifications and system requirements.
| | |
| --- | --- |
| Spec | Requirement |
| Processor | 1GHz or faster with 2 or more cores on a compatible 64-bit processor or system on a chip |
| RAM | 4GB |
| Storage | 64GB or larger storage device |
| System firmware | UEFI, Secure Boot capable |
| TPM | Trusted Platform Module (TPM) version 2.0 |
| Graphics card | Compatible with DirectX 12 or later with WDDM 2.0 driver |
| Display | HD (720p) display greater than 9 inches diagonally, 8 bits per colour channel |
If it doesn't, you have the option of either upgrading the necessary hardware components to allow the upgrade to take place, or it may be more cost effective to purchase a completely new CAD workstation which already includes Windows 11.
If you are upgrading an existing machine, you will need to confirm you have an up-to-date backup of your workstation; should you need to perform a restore in case you run into issues.
For total peace of mind, you can upgrade using a CAD workstation of the same specifications, giving you the opportunity to test that all your third-party applications/plug-ins, workflows, and configurations continue to work as expected.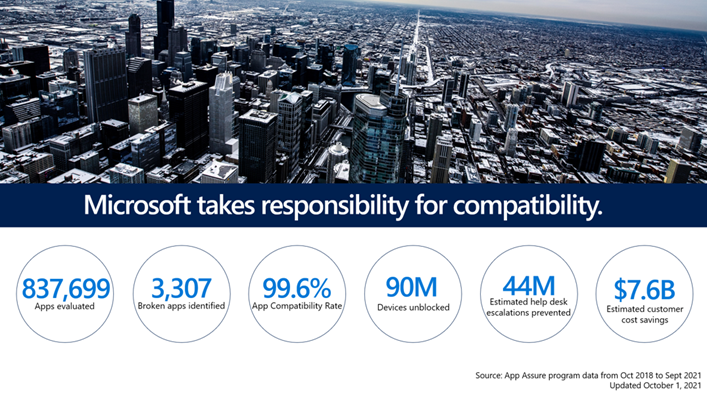 Microsoft have made a commitment to ensure that compatibility remains a core tenet of Windows 11 through its app assure program. For this reason, end users can expect minimal downtime. Any instances where issues do occur, Microsoft is continually working with its partners to provide the correct fix over time. For the best experience we recommend using the latest version from major software vendors such as Autodesk/Adobe.
All new CAD workstations are shipped with either Windows 10 plus a free upgrade to Windows 11, or will shortly be exclusively shipped with pre-installed with Windows 11 right out of the box. For more information on Windows 11 or to upgrade, please get in touch with us via the contact details below. For more information on the CAD workstations we have available, please click here.
Contact us
Please submit your enquiry here and a member of our team will get in touch.
Alternatively call 0345 370 1444