Webinar | Best practices when adopting Autodesk Construction Cloud
Join our Senior Consultant and BIM 360 / ACC Technical Lead, Bettool Jabur on September 1st where she will take a look at the Autodesk Construction Cloud (ACC) platform and guide you through the requirements of having ACC within the modern practice.

The Autodesk Construction Cloud platform brings together the most powerful portfolio of construction management software products in the industry, supporting workflows spanning all phases of construction - from design, to planning, to building, to operations.
In this webinar, Bettool will take a look at what the Autodesk Construction Cloud platform is in more detail, why we need to have it and when best to adopt it on projects. This session will also guide you through the best practices to follow when using ACC. 
Webinar Agenda:
Welcome and Introduction
What is ACC and how is it shaping our present workflows and processes?
Why do we need to adopt ACC on new projects?
When to adopt ACC as the CDE on projects?
ACC Best practice workflows
Summary
Q&A
Event Details:
Date: Wednesday, 1st September 2021
Time: 11:00 am - 12:00 pm
Presenter: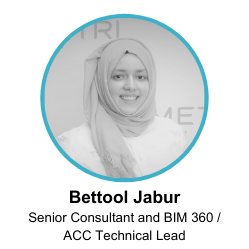 Bettool is a Chartered Architectural Technologist and a Senior Consultant at Symetri. She has been in the Architectural Technology industry for 10 years, working on a range of projects, from elaborate sports arena, educational establishments, through to large and small scale residential projects. Her knowledge and expertise of being a BIM Manager has led to her passion for improving the way we produce work and collaborate within the AEC industry and it has led to her drive in becoming an Autodesk Certified Instructor and an expert user in Autodesk Revit, BIM 360 & Naviate Architecture.
Bettool conducts knowledge gap analysis for companies and provides consulting, mentoring and training to clients, using tools such as Revit and BIM 360 to enable them to design, coordinate, collaborate, manage and make the most from their BIM data.