Symetri Construction Presents
#WorkSmarterWednesdays Webinar | Using Augmented Reality (AR) to model pre-construction, monitor during construction & see-through walls post-construction
Join the next session of our #WorkSmarterWednesdays webinar to learn how to overlay Building Information Modelling (BIM) & Computer-Aided Design (CAD) files onto the Construction site using Augmented Reality (AR).

3D visualisation of a Construction project is known to improve collaboration and field-to-office communication across all stages of construction. Amongst other elements, it adds value by allowing users to ensure construction is progressing as it should be, there is enough space to install components built off-site and by allowing owners to visualise components installed within floor, wall, and roof cavities. However, the process of reality capture, replicating the physical world digitally and putting this into virtual reality (VR), can be time-consuming and costly.
We're pleased to introduce Unity's solution VisualLive which brings Building Information Modelling (BIM) data into Augmented Reality (AR) to overlay onto job sites, allowing construction professionals to visualise designs and collaborate in real-time in just one-click.
Join this session of our #WorkSmarterWednesdays webinar series, where we will look at the new solution in detail, and explain how users can push large BIM and CAD model files to AR, and view via a mobile, tablet, or HoloLens headset. 
Webinar Agenda:
Introduction to Symetri Construction & #WorkSmarterWednesdays
Overview of Unity's VisualLive
Demonstration
Q&A
Event Details:
Date: Wednesday 22nd September 2021
Time: 12pm - 1pm (GMT)
Hosts: Darren I'Anson, Construction Strategic Account Consultant - Symetri, Steve Rudge, Construction Technical & Consulting Delivery Manager - Symetri and Jack Strongitharm, AEC Solutions Engineer - Unity Technologies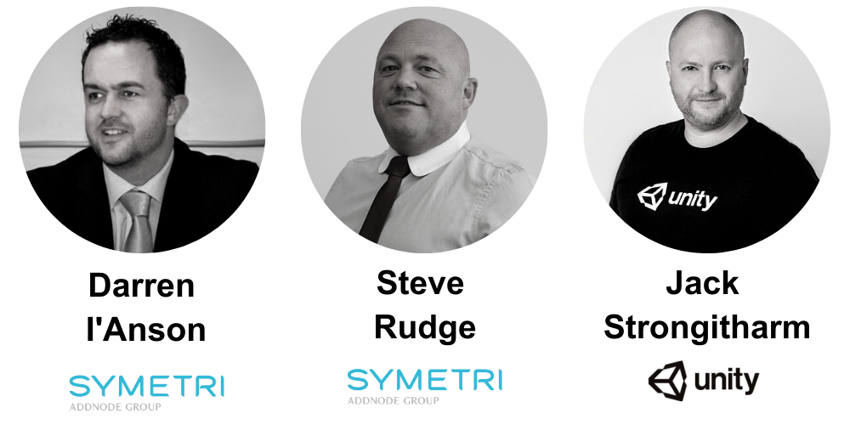 Want to stay up to date with the latest news, events & insights in Symetri Construction?
Sign up to our emails.