20 Years of Information Management at Heathrow Airport
Autodesk University Las Vegas 2019 Presentation
John Williams, Project Director at Symetri and Nigel Stroud, Information Management Lead at Heathrow, presented at this year's Autodesk University in Las Vegas.
Note: the below video recording was created by Excitech prior to becoming Symetri in January 2021, following its acquisition by Addnode Group. All Excitech products, services and solutions mentioned in this recording are available through Symetri.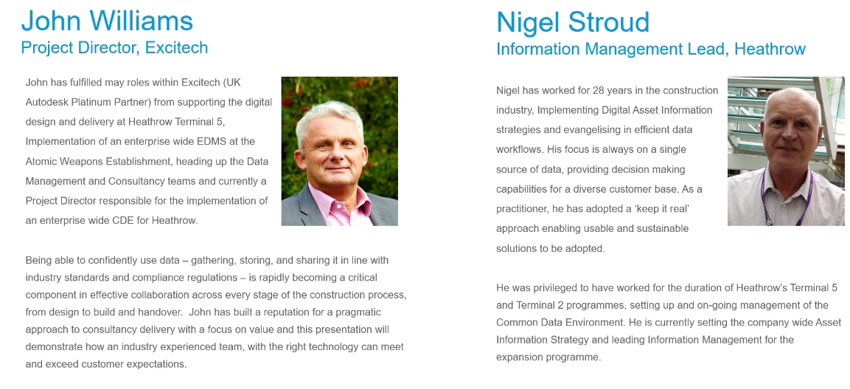 Their presentation entitled "20 Years of Information Management at Heathrow Airport, gives a high level overview of a journey spanning over 20 years from a client and a partner reseller perspective.  It shares their vision and aspirations of how the construction of Heathrow's Terminal 5 could deliver a digital legacy.
Key Learnings:
Learn about the digital processes that Heathrow has developed, both past, current, and future developments
Learn about the technology that has been used at Heathrow-both past, current, and future developments
Learn about how Heathrow brings its digital information together for efficient consumption
Gain insights into future digital intentions