Excitech (soon to be Symetri) named as winner at the Construction Computing Awards 2020
Excitech (soon to be Symetri) wins award for "Channel Partner of 2020" and "Innovation of 2020"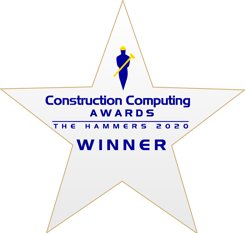 We're delighted to announce that we were named "Channel Partner of the Year" for the thirteenth year in a row.

The awards, run by Construction Computing Magazine, recognises and rewards the excellent work carried out by companies within the construction sector and the sophisticated tools they use to develop, maintain, design and modify buildings across the UK. Also known as "The Hammers", the annual awards have become a key event within the industry.

The "Channel Partner of the Year" award is voted for by the public and the fact that we have won this award for a decade is a testament to our commitment to excellence and customer service. Thank you to everyone that voted for us!

Alongside leader in the design and construction of sophisticated environments for the pharmaceutical sector, BES Ltd, we also won the award for "Innovation of the Year" for how they have adopted our document and drawing management software Excitech DOCS whilst working from home. Find out more about this here.  

Excitech DOCS is part of a wider portfolio of technology solutions developed by Symetri including Naviate, Sovelia and CQ.

All the winners are now live at www.constructioncomputingawards.co.uk.