How can Twinmotion support owner/occupiers supporting refurbishments, walk through views and more
Twinmotion, allows users to easily bring their ideas to life by creating high-quality visual concepts. Visualisations can be created as photorealistic stills and animation to compelling immersive VR to offer their stakeholders a better understand of a project.
Owner/occupiers can sometimes manage large space and from time to time these spaces may need some adjustments.
Twinmotion allows for these changes to be planned, different options can be considered, therefore reduce errors and reduce costs.
---
Webinar Details:
Date: Friday 14th July 2023
Time: 1pm - 2pm
---
Agenda:
This webinar will look at:
How you can plan for refurbishment projects
How to establish a 3D model of a shop floor to visualise layout changes
Ways to plan for aesthetical changes
How you can plan fire escapes
Walk through views of rooms and buildings
Discover possible line of sight issues in space planning
Join us on 14th July, and find out what is possible with Twinmotion and how Symetri can get you started.
---
Host: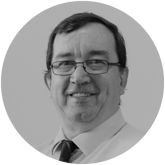 Geoff Alder, Application Specialist
Webinars

Join us for the Altair HyperWorks 2023 webinar series, where innovation meets design and simulation excellence!
Learn more