Woodwork For Inventor
Woodwork for Inventor is an application that sits inside Autodesk Inventor software that is purpose built for companies specialising in joinery, furniture design, cabinet making & shop-fit design.
Woodwork for Inventor is a furniture design software package which enables constructors to work more efficiently and accurately, with fewer errors, allowing them more time for creative work by automating routine tasks of digital information preparation required to start the manufacturing process.
Woodwork For Inventor Example Renders: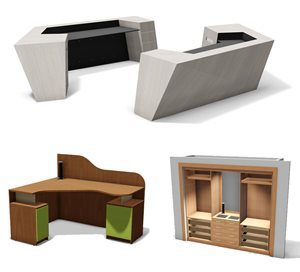 Product Features: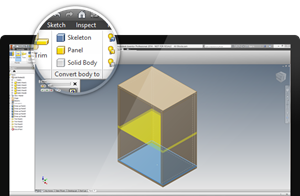 This function allows you to speed up the skeleton design process significantly with Autodesk Inventor. The user can literally dress up created furniture volume with panels, make a parallel panel and to trim these panels.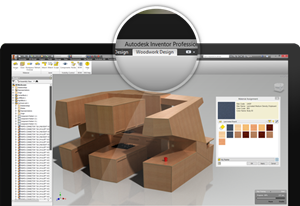 Woodwork for Inventor adds an extra feature to the Autodesk Inventor software which allows the user to easily and visually assign furniture materials (Solid wood, Board, Laminated board, Multilayer board, Rod, Desktop, Veneer/film, Edge banding, Paint) to parts using the data base which can be freely modified by the user.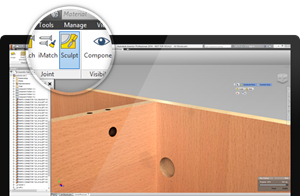 Woodwork for Inventor uses its own mortise cutting method which, unlike conventional systems, primarily allows you to quickly arrange joints and hardware fittings in a model which automatically cut the required joint or holes accordingly.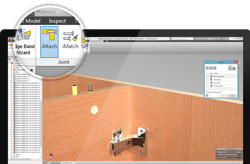 Woodwork for Inventor uses its own method of components arrangement which utilises the design connections (iMate) pre-existing in the assembly elements. The designer simply needs to specify which load-bearing geometric elements a specified component needs to be attached to and it will automatically be multiplied in all possible position combinations based on the specified load-bearing geometric element. As compared to standard Autodesk Inventor mechanisms, this ensures a much faster arrangement of fittings in a piece of furniture.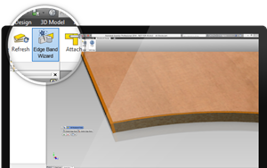 Woodwork for Inventor allows you to automatically generate edge bodies based on the assigned edge banding material with a single click of a button and to recalculate the dimensions of the part model accordingly.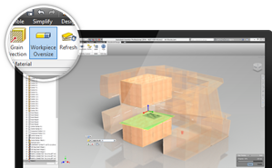 Woodwork for Inventor expands the range of Autodesk Inventor design capabilities by adding a feature which can really come in handy for furniture makers. The designer, using the materials assignment command of Woodwork for Inventor, can easily assign the main material to an Autodesk Inventor part from which the part will be cut, and place coatings for the surfaces of the part which are necessary to realize the furniture construction.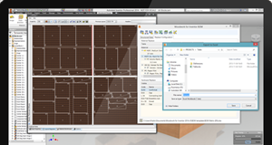 Woodwork for Inventor has a very flexible mechanism for combining specifications. To achieve this, you simply have to change the template in MS Excel format and in this way you can generate a report of a desired form. This principle allows easy generation of reports of a desired form and preparation of reports it so that they are supported by other programs.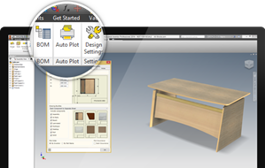 Woodwork for Inventor allows for automated generation of product drawing bundles by a single command. The user can open any of their designed products and generate a chosen drawing bundle. These may include production drawings or documents for printing labels, etc. There is capability to export Drawings into new additional formats – PDF, DWG, DXF and DWF.
Woodwork for Inventor uses its own specification generator which allows for automatic generation of information required for furniture production based on the designed 3D furniture model.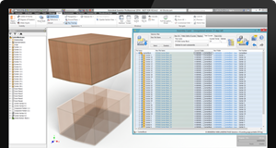 Woodwork for Inventor allows you to make an independent copy of any existing furniture model thus the designer is able to quickly design similar furniture of the same concept having different configurations and dimensions.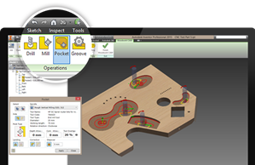 Woodwork for Inventor has an optional CAM feature which, based on the geometry of furniture parts, enables easy preparation of programs for CNC machine tools. To achieve this, you simply need to specify the datum point of the part and use a required operation: drilling, milling, mortising or cutting.
Currently, Woodwork for Inventor has post-processors for the following systems:
BiesseWorks (.cix)
AlphaCAM (.dxf)
CNI Informatica (.cni)
AutoCAD (.dxf)
TpaCAD (.tcn)
EdiCAD (.tcn)
IMAwop (.fmc)
MasterWood (.tlf)
WoodWOP (.mpr)
TwinCAM (.dxf)
Hops (.hop)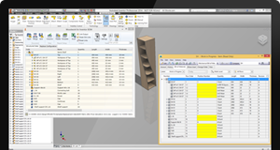 Woodwork for Inventor provides an option of integrating generated information with the Autodesk Vault Professional product data management system. Proper configuration of the Woodwork for Inventor and Autodesk Vault Professional software allows you to automatically transfer such component parameters as part or workpiece dimensions, material or color codes which have been assigned while working with the Woodwork for Inventor program, etc.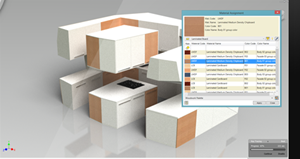 User can move Autodesk Inventor material and appearance assets library to a new place on the network drive or their own computer drive without broking the links in the material and appearance library and in appearance assets definition, which are located in Autodesk Inventor components.
Contact us
Alternatively call: 0345 370 1444
Product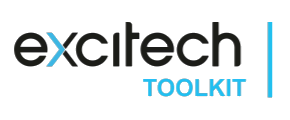 The Excitech Toolkit for Inventor is a set of productivity tools and enhancements for Autodesk Inventor. 
Learn more
Product
Autodesk Inventor software provides engineers and designers professional-grade design and engineering solutions for 3D mechanical design, simulation, visualisation, and documentation
Learn more